Need administration?
Free online administration software from Invoice Office!
Administration software from Invoice Office
Accounting and administration may not be your favorite task as an entrepreneur, but it is just part of the deal. Nowadays there are fortunately enough opportunities to organize all your administration online. The digital era brings efficiency and time-consuming jobs if they can be handled faster, so that you have more time for entrepreneurship. Start today!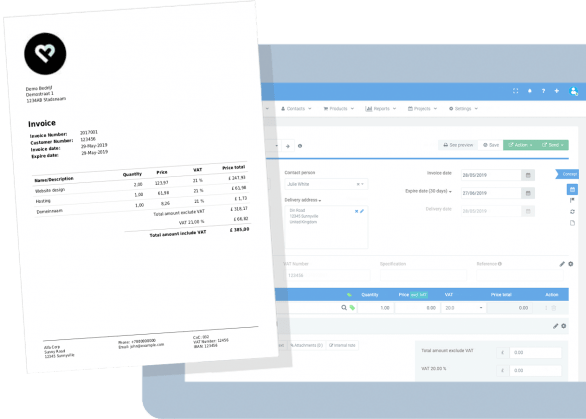 What is the advantage of administration software?
By online administration software we mean the total package of invoicing, time registration, cost management and much more. Everything that an entrepreneur needs. Invoice Office offers a total solution, a software to set up your entire administration online. Below are a number of disadvantages of a physical administration put together.
 
As a freelancer you are often busy, it is annoying when a lot of time is spent on administration li>  
You spend a lot of money on printing and paper costs to keep your records in folders li>  
Your administration is not always quickly accessible if it is physically stored in a warehouse li>  
Keeping overview is difficult when you have a huge amount of administration
li>
Administration software benefits
 
You have more time for entrepreneurship li>  
You give back to the environment by keeping all administration online. This way you return to the earth and put all paper and printing costs in your own pocket li>  
Always and everywhere accessible, 24 hours a day, 7 days a week li>  
Licensing costs are cheaper than printing and paper costs li>  
Digital accounting is safe li>  
Legal storage period, which means that the software will always keep your records as long as necessary li>  
Online accounting is safe, daily backups are made li>
Discover the features of our software
Our administration software contains a range of features, useful for every entrepreneur. Click on one of the links below for more information.
I have been using Invoice Office for 5 years now and I think it's fantastic how the design, the functionality and the platform have grown with me.

It makes my life so much easier, I wish I had this when I started my business! It really is a time saver and works very pleasant.

The software looks great in terms of design. The billing that also accepts online payments and keeps track of costs is very easy to use.