Create credit note
Easily create and send credit notes!
Create credit invoice or credit note?
Preferably you want to make an invoice or credit note as soon as possible, so that you have more time for entrepreneurship. You can choose to use Excel or Word and manually create a credit invoice, but that is usually not the easiest way. With great pleasure, you can now fortunately make a credit note free of charge online with the invoicing software from Invoice Office. All you have to do is to create a project and describe what it is about. Then you create the customer for whom you carry out the project. From that moment you send your credit invoices to your customer by e-mail in a few seconds. This is the perfect way of working for many entrepreneurs, freelancers and small and medium-sized businesses who want to spend as much time as possible on entrepreneurship and as little as possible on administration.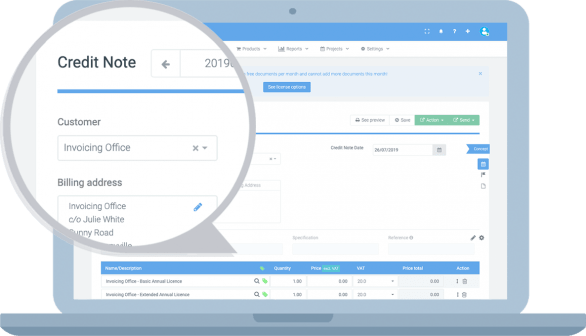 All requirements for creating your credit notes
Our software has all the necessary featuress to create a credit invoice. They are exactly in line with the rules of the Chamber of Commerce and the Tax Authorities that have to pay an invoice. Below you will find a number of functions that can be found within the software.
 
All requirements for credit notes needed to display can be added from the standard template (VAT number, Chamber of Commerce number etc.) li>  
Simply follow up with a reminder li>  
See if the sent e-mail with attached credit note (PDF option) is open li>  
Option to implement your own corporate identity in all credit invoices (logo, font etc.) li>  
In addition to credit notes, invoices , packing notes , quotations , send order confirmations and payment reminders li>  
Support for all currencies li>  
You can always find backup of all documents online (storage obligation) li>  
The online payment function ensures that invoices are paid faster
li>
To the right you can view a credit note example that can be made in Invoice Office. Including product lines, closing text, addresses, logo and much more.
Would you like to better view the credit note example ? Download the example as a PDF file via the link below.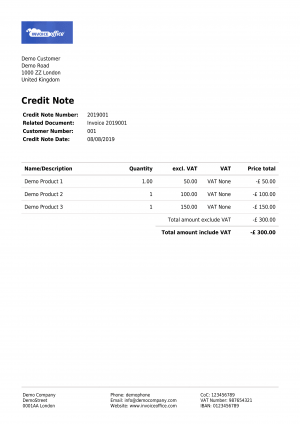 I have been using Invoice Office for 5 years now and I think it's fantastic how the design, the functionality and the platform have grown with me.

It makes my life so much easier, I wish I had this when I started my business! It really is a time saver and works very pleasant.

The software looks great in terms of design. The billing that also accepts online payments and keeps track of costs is very easy to use.
Get started with our software
Our accounting software has various options and features. You can quickly create a credit invoice and prepare packing notes, offers, invoices or payment reminders. Also check out time registration software feature, very useful!