تأكيدات الطلب
إنشاء وإرسال تأكيدات الطلب في عدد قليل من النقرات!
إنشاء تأكيد الطلب مع مكتب الفاتورة
شحن مجاني
من أجل إبقاء العميل على اطلاع جيد بطلبه ، فإن إجراء تأكيد الطلب هو الطريقة المثلى لخدمة العميل. بعد قبول العرض أو إرسال فاتورة ، من الجيد إجراء تأكيد للطلب بالإضافة إلى ذلك. نتيجة لذلك ، يعلم العميل أن الأمر قد تم إرساله وتم إرساله. كما أنه يعطي معلومات العميل حول عندما يتم تسليم منتجاته.
لذلك يمنع الأخطاء في إدارتك عند إرسال تأكيد الطلب. تأكد أيضًا من الرجوع إلى الشروط والأحكام العامة الخاصة بك والتي تناسب العميل. قم بتسمية كل شيء في تأكيد الطلب ، مثل: تاريخ الطلب وأرقام الطلب ورقم العميل ونظرة عامة على المنتجات والأسعار المطلوبة وإجمالي التكاليف وأية تعليقات ووقت التسليم المخطط..
إذن ما هو تعريف تأكيد الطلب؟ يتم استخدام تأكيد الطلب لإبلاغ العميل بأنه قد تم تقديم الطلب.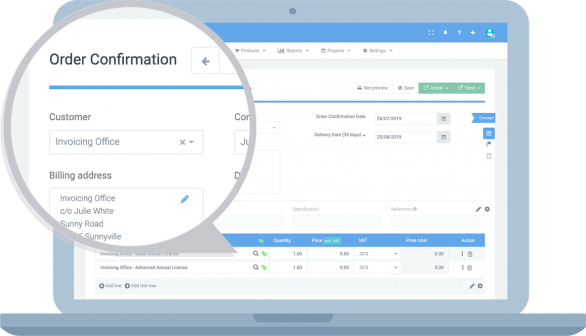 مزايا تأكيدات الطلب عبر الإنترنت
إنشاء تأكيد الطلب عبر الإنترنت مع مكتب الفاتورة والعديد من المزايا:
يمكنك الاحتفاظ بنظرة عامة على نظام المحاسبة بأكمله
قم بإنشاء وإرسال طلب تأكيد على أساس فاتورة أو اقتباس أو مذكرة ائتمان تم إرسالها مسبقًا
يمكنك تحديد التصميم بنفسك ، بحيث يمكنك تحويله بالكامل إلى نمط منزلك الخاص
إنه يوفر المال (بدون تكاليف الطباعة والورق) كما يوفر البيئة
يمكن الوصول إلى إدارتك في أي مكان على أي جهاز ، 24 ساعة في اليوم ، 7 أيام في الأسبوع
المزيد من الوقت للعمل
المزيد من الوقت للعمل
مثال لتأكيد الطلب
مع مكتب الفاتورة ، يمكنك بسهولة إنشاء تأكيد للطلب. عرض مثال على اليمين
إذا كنت ترغب في معاينة العينة ، يمكنك أيضًا تنزيلها عبر ملف PDF أدناه.
قم بتنزيل مثال تأكيد الطلب في PDF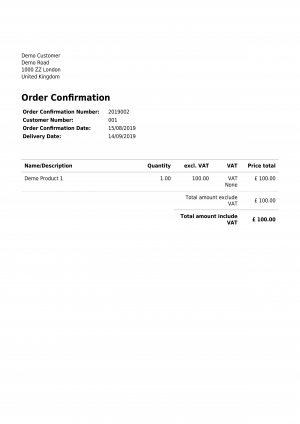 I have been using Invoice Office for 5 years now and I think it's fantastic how the design, the functionality and the platform have grown with me.

It makes my life so much easier, I wish I had this when I started my business! It really is a time saver and works very pleasant.

The software looks great in terms of design. The billing that also accepts online payments and keeps track of costs is very easy to use.