تسجيل وقت الفراغ
تسجيل الوقت الرقمي ، من السهل جدا!
برنامج تسجيل الوقت من مكتب الفاتورة
يستفيد جميع رواد الأعمال والمستقلين والشركات الصغيرة والمتوسطة من برامج تسجيل الوقت. يساعد ذلك في ترتيب إدارة الأعمال ، لأنه يمكنك تتبع عدد الساعات التي يحتاج العميل إلى تحرير فاتورة بها. خاصة إذا كنت تدير مشاريع مختلفة ، فمن الحكمة الحفاظ على هذا الأمر دقيقًا. في الوقت نفسه ، تحصل على نظرة عامة حول الأنشطة التجارية التي تكلف معظم الساعات. بعد كل شيء، والوقت هو المال.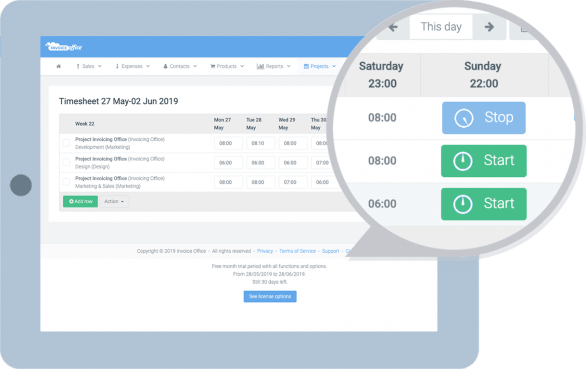 كيف يمكن لبرنامج تسجيل الوقت مساعدتك؟
تتبع مدى ربحية وظيفة
تتبع مقدار الوقت الذي تقضيه على أي عميل
تتبع ما فاتورة لأحد العملاء
تتبع ما إذا كنت البقاء ضمن الميزانية والجدول الزمني للمشاريع
مزايا التسجيل عبر الإنترنت
برنامج تسجيل الوقت مجاني!
مكتب الفاتورة متاح عبر الإنترنت على مدار 24 ساعة طوال أيام الأسبوع
يمكنك فاتورة ساعات مباشرة
توقيت لتتبع ساعات
تسجيل الوقت المحمول مع التطبيق لدينا
ادارة فريق
تقارير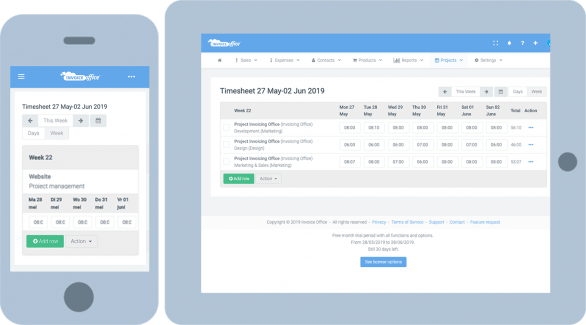 I have been using Invoice Office for 5 years now and I think it's fantastic how the design, the functionality and the platform have grown with me.

It makes my life so much easier, I wish I had this when I started my business! It really is a time saver and works very pleasant.

The software looks great in terms of design. The billing that also accepts online payments and keeps track of costs is very easy to use.
اكتشف برنامجنا
بالإضافة إلى تسجيل الوقت ، يحتوي برنامج مكتب الفاتورة أيضًا على العديد من الوظائف الأخرى مثل الفواتير ، والاقتباسات ، وملاحظات التعبئة ، وتذكيرات الدفع ، وأكثر من ذلك بكثير. انقر على أحد الروابط أدناه لمزيد من المعلومات.
Error: Your Requested widget " text-29" is not in the widget list.
[do_widget_area actionbar-rightside-content]
[do_widget_area blog-cat-algemene-functies-uk]
[do_widget_area blog-cat-articles-management-uk]
[do_widget_area blog-cat-beheerfuncties-uk]
[do_widget_area blog-cat-billing-uk]
[do_widget_area blog-cat-bloguk]
[do_widget_area blog-cat-blogus]

[do_widget id="recent-posts-3"]
[do_widget id="widget_mfn_recent_posts-2"]

[do_widget_area blog-cat-boekhouding-functies-uk]
[do_widget_area blog-cat-creating-documents-uk]
[do_widget_area blog-cat-customer-management-uk]
[do_widget_area blog-cat-document-design-uk]
[do_widget_area blog-cat-document-design-uk-support-uk]
[do_widget_area blog-cat-document-settings-uk]
[do_widget_area blog-cat-facturatie-functies-uk]
[do_widget_area blog-cat-functies-uk]
[do_widget_area blog-cat-general-questions-uk]
[do_widget_area blog-cat-general-software-explanation-uk]
[do_widget_area blog-cat-pricing-and-explanation]
[do_widget_area blog-cat-projects-management-uk]
[do_widget_area blog-cat-request-accounting-uk]
[do_widget_area blog-cat-support]

[do_widget id="text-55"]
[do_widget id="text-56"]
[do_widget id="text-57"]
[do_widget id="text-62"]

[do_widget_area blog-cat-support-uk]
[do_widget_area blog-cat-tijd-en-uren-administratie-uk]
[do_widget_area blog-cat-video-tutorials-uk]
[do_widget_area buddy]
[do_widget_area content-bottom]

[do_widget id="text-14"]
[do_widget id="text-29"]

[do_widget_area edd]
[do_widget_area events]
[do_widget_area footer-area-1]

[do_widget id="category-posts-2"]
[do_widget id="category-posts-3"]
[do_widget id="category-posts-4"]
[do_widget id="category-posts-5"]

[do_widget_area footer-area-2]

[do_widget id="nav_menu-4"]
[do_widget id="nav_menu-9"]
[do_widget id="nav_menu-10"]
[do_widget id="nav_menu-15"]
[do_widget id="nav_menu-3"]
[do_widget id="nav_menu-14"]
[do_widget id="nav_menu-11"]
[do_widget id="nav_menu-12"]
[do_widget id="polylang-2"]

[do_widget_area footer-area-3]

[do_widget id="nav_menu-5"]
[do_widget id="nav_menu-6"]
[do_widget id="nav_menu-8"]
[do_widget id="nav_menu-13"]
[do_widget id="text-9"]

[do_widget_area footer-area-4]
[do_widget_area footer-area-5]
[do_widget_area forum]
[do_widget_area left-sidebar]

[do_widget id="nav_menu-2"]
[do_widget id="text-21"]
[do_widget id="text-18"]
[do_widget id="text-23"]
[do_widget id="text-28"]
[do_widget id="text-32"]
[do_widget id="text-33"]
[do_widget id="text-34"]
[do_widget id="text-39"]
[do_widget id="text-40"]
[do_widget id="text-41"]
[do_widget id="text-42"]
[do_widget id="text-43"]
[do_widget id="text-65"]
[do_widget id="text-66"]

[do_widget_area mega-menu]
[do_widget_area mfn-search]
[do_widget_area right-sidebar]

[do_widget id="search-2"]
[do_widget id="text-27"]
[do_widget id="text-37"]
[do_widget id="text-24"]
[do_widget id="text-36"]

[do_widget_area right-sidebar-main-content]
[do_widget_area shop]
[do_widget_area sidebar-support-top-section]

[do_widget id="text-17"]
[do_widget id="text-60"]
[do_widget id="text-61"]
[do_widget id="text-63"]
[do_widget id="text-10"]
[do_widget id="text-58"]
[do_widget id="text-59"]
[do_widget id="text-64"]

[do_widget_area top-area-1]
[do_widget_area top-area-2]
[do_widget_area top-area-3]
[do_widget_area top-area-4]
[do_widget_area top-section]

[do_widget id="text-11"]
[do_widget id="text-12"]
[do_widget id="text-13"]
[do_widget id="text-16"]
[do_widget id="text-19"]
[do_widget id="text-20"]
[do_widget id="text-22"]
[do_widget id="text-31"]
[do_widget id="text-38"]
[do_widget id="text-44"]
[do_widget id="text-45"]
[do_widget id="text-46"]
[do_widget id="text-47"]
[do_widget id="text-48"]
[do_widget id="text-49"]
[do_widget id="text-50"]
[do_widget id="text-51"]
[do_widget id="text-52"]
[do_widget id="text-53"]
[do_widget id="text-54"]

[do_widget_area widgets_for_shortcodes]
[do_widget_area wp_inactive_widgets]

[do_widget id="text-4"]
[do_widget id="text-5"]