Effortless invoicing & accounting for small businesses
All financial admin & business tools you need to run your business. Very easy and user friendly. For anyone.
Save real time for growing your business!
Smart billing software designed for convenience & simplicity
Very intuitive and easy to use. For everyone! Regardless of your accounting or computer knowledge.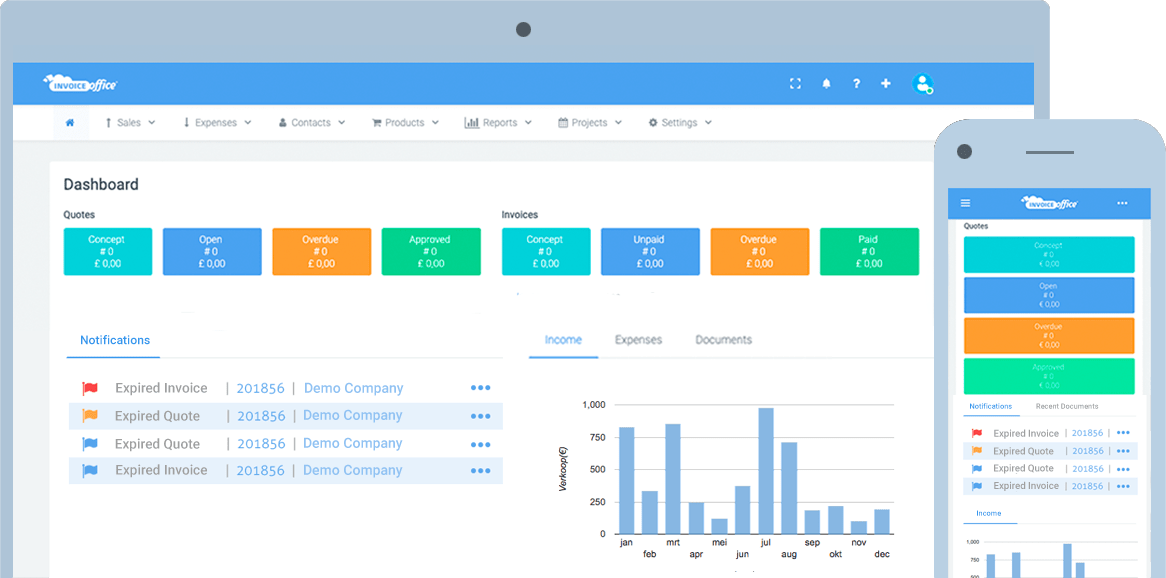 Hassle-free accounting from quotation to Tax return
Your accounting always available and with you at all times. Make your life much easier and more productive. Save time for what really matters: growing your business!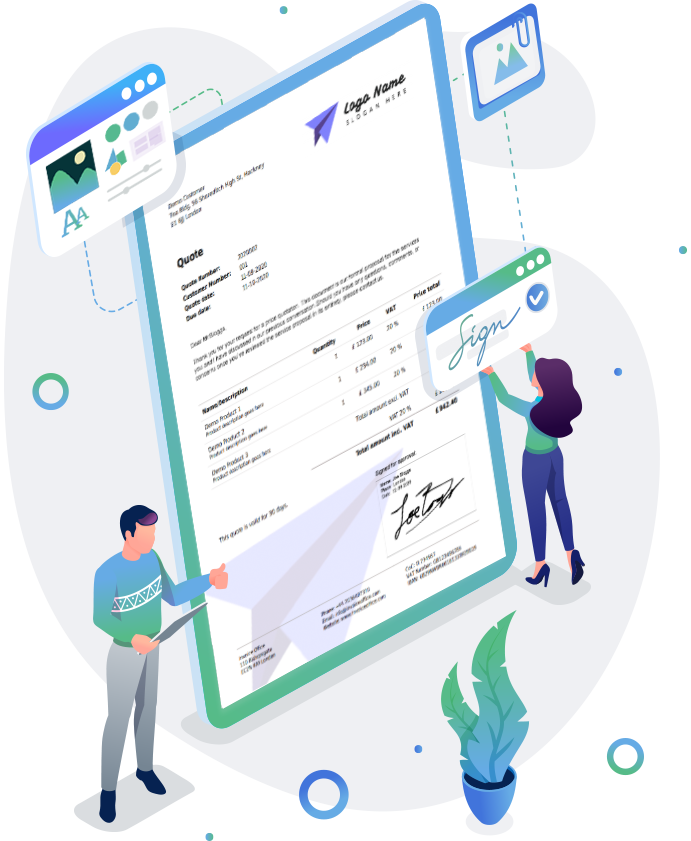 Beautiful, professional quotes made with own products and services and sent digitally in just a few clicks. Includes digital signature, attachments and more.
   In your own house styleMake your quotes with your own logo and in your own house style. Or choose one of the many layout templates for a professional look.
A beautiful, professional offer is the calling card of your company. Your quotation must immediately give the customer a good impression. With the invoicing program of Invoice Office you can easily prepare your quotes with your own logo and corporate identity. You can also choose the data shown on the quotation and arrange it according to your own wishes.

Beautiful quotation templates
In the invoicing program you also have several stylish quotation templates that you can use as the basis for your quotation design. Customizing a quote template is as easy as in your favorite word processor. If you are unable to find a solution, we will help you personally to prepare the perfect quotation.
  Cover & Accompanying letterFor optimal effect, use an additional, personalized quote letter and / or a beautiful cover page. Distinctive and effective!
An offer letter is an accompanying letter with your offer. Making a quotation in report form with the price proposal on page 1 is standard. You can distinguish yourself with an offer letter. This sets the right tone, introduces your proposal and makes your offer personal. After all, you are (usually) not alone in submitting a quotation. With the invoice software from Invoice Office, you increase your chance of winning a job.
View an example quote with cover page and quote letter here.
  Digital signatureThanks to the included digital signature for approval, you have a greater chance of acceptance and you can proceed faster to delivery.
When you send a quote, you can choose that the recipient can accept the quote online and sign it with a digital signature. Your customer will then receive an email with the option to view the quotation online and accept the quotation directly online.
A digital signature speeds up the process considerably and also increases your chance of acceptance.
When your customer has signed the quotation online, you will be notified immediately and you can get started. In the billing program, the quotation status has automatically changed to 'Accepted'. You can always see the status of your offers in a clear overview.
 With attachmentsSend your quotes digitally including attachments. Such as delivery conditions, price lists, brochures or images.
With the billing software of Invoice Office you can send multiple attachments with your quotes. A clearly legible quotation is the reason why you include details such as product specifications, etc. in an appendix. It is also often customary to send your terms of delivery as quote attachments. But also consider other information that you want to send with your quote, such as:
Extensive product specifications and product properties
Technical descriptions, drawings and models
Calculations and spreadsheets
Corporate Brochure and Folders
Price lists
General terms and conditions, Sales conditions and Delivery conditions
In a few quick steps you can create an invoice entirely based on your own wishes. You decide what it looks like and what is on it. And the entire billing process is then conveniently automated.
 Stylish & professional invoicingPrepare your invoices in your own house style for a professional look. We help with a rich assortment of layout templates and layout settings.
Invoices that you send must meet all legal requirements, be clear and correct, but also look good. With the accounting program of Invoice Office you can organize your invoices according to your own wishes with your own logo and corporate identity. But your invoices are also made super fast.
With a few clicks you select the customer, enter the invoice lines and you're done. The invoice program ensures the correct invoice numbering. The VAT, the total amounts and any discount will be calculated for you. Therefore, your invoice is always correct.
You can send the invoice with one click via e-mail, by post or Simpler Invoicing (UBL invoices). After sending, the invoice is immediately processed in your entire accounting. This way you always know what your turnover is and how much a VAT you have to pay. Read more about making an invoice with Invoice Office here.

Automatic reminders & notificationsAlways the right action on time thanks to status notifications and handy dashboard overview. And set automatic reminders for even more convenience.
In the invoicing program of Invoice Office, you always have an up-to-date overview of the status of your invoices with a real-time overview of your turnover, the outstanding amounts, and expired invoices.
You will be automatically notified by the billing software when your customers are late with a payment. You can send reminders with one click. But you can also choose to send your reminders automatically when the invoice due date is exceeded. If you don't want to have to worry about anything.

Periodic invoicesCreate and send your invoices automatically at the desired time without having to worry. Per month, per year or choose yourself.
For some products and services, you want to be able to send periodic invoices to your customers. For example; monthly rent, Weekly classes, or an annual subscription.
Creating invoices manually for each period is time-consuming and increases the risk of errors. That is why it is useful to create these invoices as periodic invoices.
With the accounting program of the Invoice Office, your periodic invoices can be created automatically at the times you specify. Which you then only have to send. But if you don't want to worry about it at all, you can even choose to automatically send the invoice to your customer.
You can set a periodic invoice at which frequency you want to create the invoice, for example, weekly, monthly or every year. You can also specify the maximum number of times that an invoice must be created or up to a selected end date.

 Online payment linkReceive your money faster through an included online payment request on your invoice and in the invoice email.
Nothing is more annoying than waiting for your money. With the invoicing program of the Invoice Office, your invoices are designed in such a way that you are paid faster. Your customers can pay your invoices directly via their mobile, iDeal, or PayPal.
In the invoice email and on the PDF document of the invoice, a link is added that the customer can click to make the payment directly online. To offer an online payment method on your invoices, you must work with a Payment Service Provider such as Mollie.
Research has proven that the average payment term of an invoice decreases if your customers have the opportunity to pay the invoice online.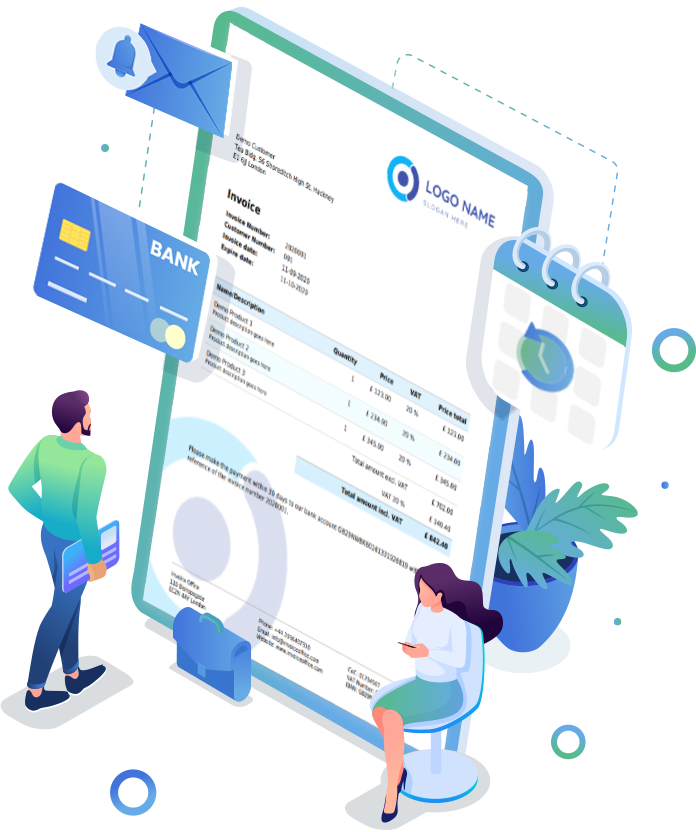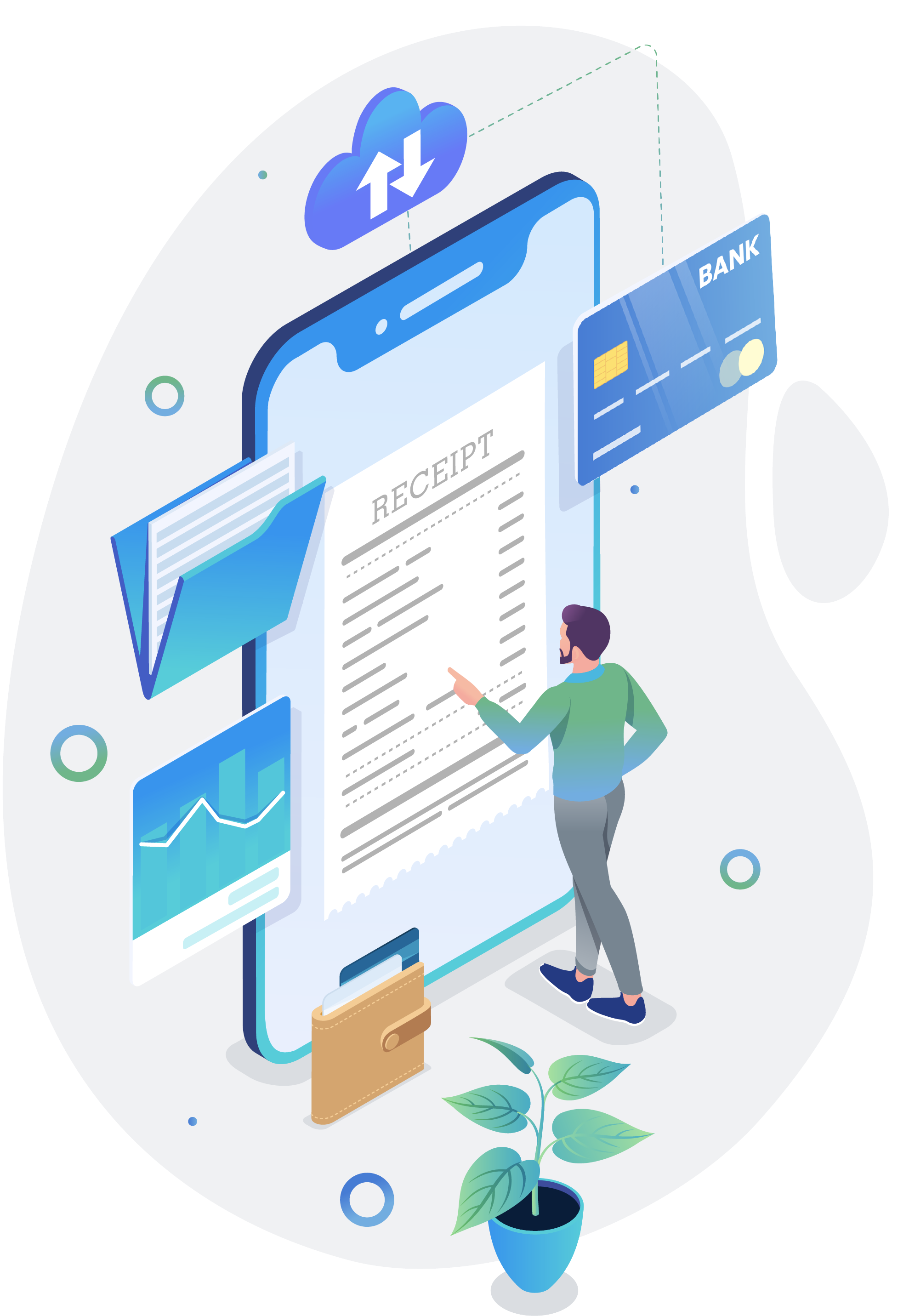 All purchase invoices, receipts and bank transactions are quickly booked and processed. On the go, at home and at the office. With all costs updated in this way, your administration is always up-to-date and your VAT return is ready for you.
Book receipts and purchase invoicesAll your purchase invoices and receipts can be easily booked and processed in no time. Never lose a receipt and always have a grip on your payments and expenses.
The booking of receipts and purchase invoices is super fast with the accounting program of Invoice Office. By immediately adding incoming invoices and receipts to your administration, you will never lose an important document again and your accounting is always up to date. You digitize all incoming documents in no time, on the road, at home, and at the office, by immediately forwarding via email to your own Billing Office inbox for processing as soon as you are online again.
Read more about managing all costs with Invoice Office here.
 Loading and processing bank transactionsBy linking your bank account and loading your transaction, you can immediately see which invoices have been paid and complete your cost administration.
Accounting with Invoice Office starts with importing credits and debits by means of an automatic bank link or an MT940 file that you can download from your internet banking environment. We support the MT940 files of all Dutch business bank accounts.
You can then process these loaded cashbook transactions by linking them to expense categories and to associated invoices and payments. Our free accounting program thinks along with you and you have updated your costs in no time.
When you link your bank account with an automatic link, you only have to make the link once and then all new credits and debits are automatically read into the invoice program.

VAT declaration already calculated for youWith your income and expenditure processed, we calculate everything and your VAT return is automatically completed for you.
With the invoice program from Invoice Office, your VAT return is done in a few minutes. We calculate the VAT for you and automatically fill in the VAT declaration based on all entered income and expenditure. This way you always know how much VAT you will receive and what you have to pay, well before you have to pay the Tax and Customs Administration. So you never have to wait for your accountant again and never have to be surprised again. And that also sleeps a lot better.
With the quarterly VAT return, you only have to copy the amounts that are ready for you in the accounting program and transfer them one-to-one on the online tax form. And are you ready in a minute?

  Profit and loss account & reports Always direct insight into how you are financially and how your company performs with clear reports that benefit you.
Invoice Office offers various reports that are automatically updated with every invoice you send and every change in your administration. You can always immediately see how you are financially and there are no more nasty surprises at the end of the year.
Your profit and loss account is also shown in clear graph form on your dashboard. And under the reports, you will find more extensive reports about all parts of your customers, products, and documents. This way you always have control over your company.
Let your accountant take a look
Invite your accountant or advisor to take a look at your accounting. With a guest account, you can give someone free access to the
billing software
and he/she can view your administration with read-only rights.
Smart administration software that thinks along with you! Instantly save time and money by automating daily operational processes. Useful tools to make your life as an entrepreneur much easier..
Time registration & Project managementTime registration and project management perfect for freelancers but also for teams. Easy digital job sheets and timer function wherever you are.
Many companies work in and with projects and cannot escape keeping track of hours worked and project status. Keeping track of time worked will never be a favorite activity, but the Billing Office accounting program makes
time tracking
a lot faster and easier.
Our software offers a simple, clear project management function that is linked to time registration and in which you can keep track of project planning and budget.
Work orders signed directly online by the customer
Simple, digital timesheets that are approved directly online by the employer make the time registration process very easy and efficient. After completing your timesheet, you can send the hours overview to the client with one click, who can approve the hours worked directly online with a digital signature.
With one click from timesheet to invoice
The time registration is seamlessly linked to our invoicing module. With one click you can convert your approved hours into an invoice and send it.
Read more about timekeeping with the Billing Office accounting program here.
  Order confirmations & packing slipsFollow your quote or invoice with one click with an order confirmation and / or a packing slip. Work smarter and easier in your daily operation.
Order confirmations
For many entrepreneurs, order confirmations are useful as a step in the delivery process but are even mandatory for webshops. With our invoice program, you can easily create order confirmations from an existing quotation or invoice or simply made in just a few clicks. Then also digitally sent directly to the customer.
Packing Slips
Packing slips are important documents for both the entrepreneur who supplies the products or service and for the recipient because they specify what has been delivered. The delivery can be checked on the basis of the packing slip. With the billing software from Invoice Office you make a packing slip directly from an existing document such as an invoice or order confirmation. Or clicked together quickly and ready in a few simple steps.

Price lists & profit calculationWork with multiple price lists for different customer groups. Profit margin is calculated for you with every quote and invoice for better results.
Profit margin calculated on quotations and invoices
When creating invoices and quotations, it is useful to immediately see what the calculated profit margin is on the document you create. Including discounts. With our accounting program, you always know exactly what you have left with an offer or invoice. This way you avoid unnecessary losses and you are assured of an optimal profit margin.
Working with multiple price lists
Do you work with different prices and customer groups? With the invoicing program of Invoice Office you can create different price-lists for the same product list and indicate which price list applies per customer or customer group. When creating quotations and invoices, the correct prices are always shown on the document that matches the relevant customer.
 Inventory management Never run out of stock again! Keep track of your stock easily and automatically receive a notification when you reach your own thresholds.
Effective inventory management can mean the difference between a successful sale and losing a sale to the competitor. Our software also has a simple inventory management program that can help you optimize the amount of inventory and inform you about what needs to be ordered to maintain inventory levels.
In the accounting program of Invoice Office you can specify how you want inventory to be debited (when sending an invoice or order confirmation, for example) and at what number the system must send you a notification to buy again.
The stock transaction history can also be useful to see with which orders and invoices the stock has been debited and when.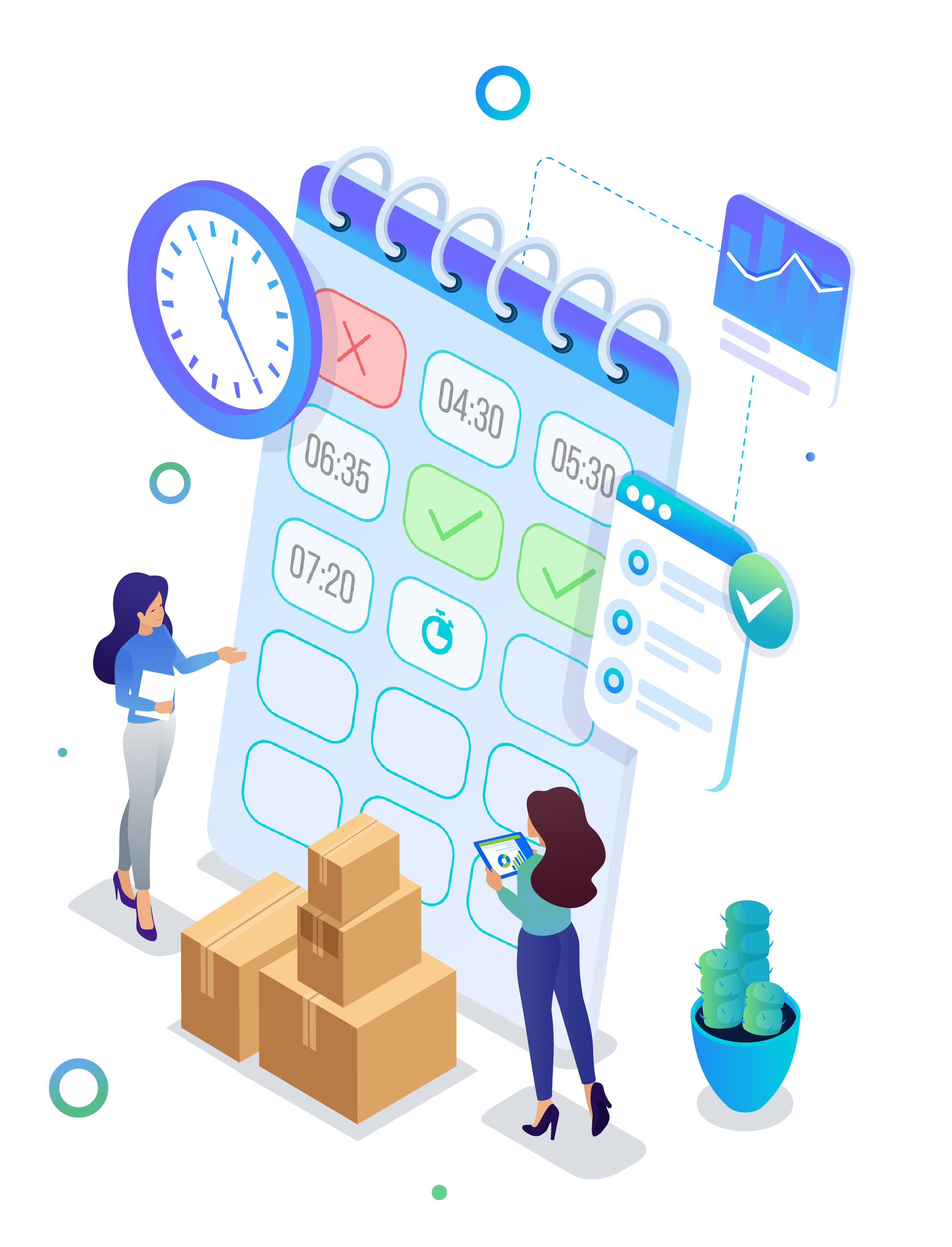 Why entrepreneurs love Invoice Office

---
"I have been using Invoice Office for 5 years now and I think it's fantastic! The software is unmissable for running our business."
Jaanvi Burman
MERINO SERVICES

---
"I recommend Invoice Office to any small business. Me & my team are very satisfied with the software. It's a pleasure to work with."
Armaan Khatri
ENTREPRENEUR


---
"The software is great in terms of design and usability. And has a very complete range of functions. Highly recommended!"
Mohammed Balakrishnan
GM ENTERPRISES