Bookkeeping Software
Bookkeeping has never been easier!
What is bookkeeping software?
An advanced software, Bookkeeping software allows accountants and bookkeepers to report and record the financial transaction of businesses and enterprises. Previously, the accounting work was done manually and was a tedious task. However, with the advent of accounting software, maintaining and reporting accurate financial information has become easier and less time-consuming. The modern bookkeeping software assists in the detailed tracking of financial transactions with great accuracy. It also allows us to report and analyze the data for critical decision making. It has completely eliminated the need for manual record-keeping as well as any chances of error.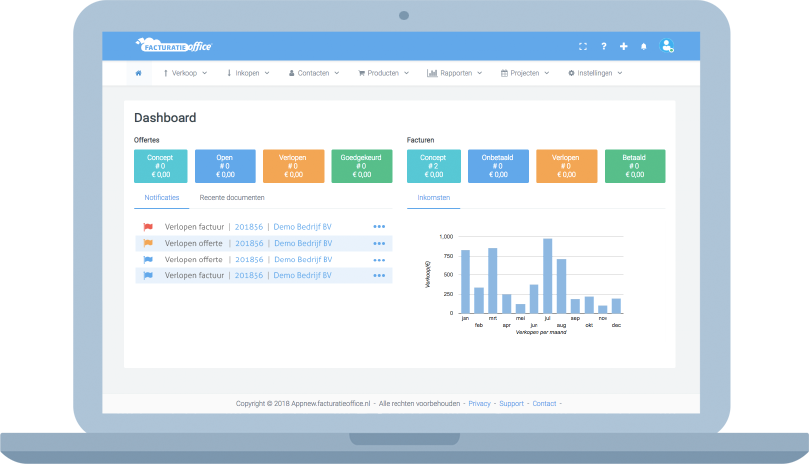 Why you should use bookkeeping software?
A bookkeeping software brings a great deal of efficiency to your accounting operations. The task of maintaining and recording accounting transactions can be done quickly, efficiently, and without any error. Besides, using Bookkeeping software is very easy. It caters as a one-stop solution for all your bookkeeping requirements. You can handle quotations, invoices, order confirmations, packing slips, payment reminders, and much more using only single software. Some of the key benefits of using Bookkeeping software:
• Invoice software saves you a lot of resources as the tasks are completed with limited investment.
• Automation of invoicing and quotation processes for error-free and efficiency. You can automate your VAT declaration process using bookkeeping software.
• The software offers you 24/7 access ensuring that you can perform invoicing and accounting and invoicing at the go.
• Real-time processing of data ensuring up-to-date data recording and processing by the accountants.
• Accessible through a range of devices including PC, Laptops, tablets and smartphones.
• Easy to integrate with existing systems and software.
Expedite your document creation process and also ensure accuracy at the same time with an advanced Bookkeeping software. The central location of your data enables you to be the most efficient and productive.
Free bookkeeping with Invoice Office
Do you send less than four invoices (or other documents) per month? Then the Invoice Office bookkeeping software is completely free to use. Lifetime! This is ideal for the self-employed or sole proprietorship with a limited number of customers and projects. Our mission is to make life easier for entrepreneurs because we know better than anyone how difficult doing business can be when you have just started. That's why we offer our bookkeeping software for free, so that young companies can get off to a flying start.
Accounting 'light'
The bookkeeping software of the Invoice Office offers all the basic functionality to prepare your accounting for the quarterly VAT returns and the annual accounts. Most of our clients work with an accountant who only has to compile the figures from the program for the annual accounts.
Complete invoicing
The basis of any good bookkeeping software is a powerful invoicing module for creating and sending quotes, invoices, and reminders, and registering payments. Invoice Office offers the most powerful and flexible invoice program on the market. With very rich document layout and setting options.
Cost management and bank transactions
You want to be able to book and register receipts and purchase invoices easily and quickly. Managing your expenses and understanding your cash flows is an essential functionality of an accounting program. We offer this for free, including loading your bank transactions to complete your accounting.
VAT return & profit and loss account
With your accounting properly maintained, including costs and payments, the accounting program knows exactly what to fill in for your monthly or quarterly VAT return. All amounts are ready for you. With handy reports, you always have insight into the performance of your company. Such as the profit and loss dashboard.
Relationship management
Relationship management The data of your customers, contacts and suppliers form the basis of your accounting. You want to be able to manage this centrally and easily and add it to a new invoice or quotation with one click. And follow all documents, payments, etc. per customer.
Product management
A simple system for centrally storing and managing all your products and services is essential in a good free accounting program. You want to be able to add your products to your quotations and invoices quickly and easily with a few clicks. And keep track of the statistics per product.
Inventory management
If you are a trader, retailer or wholesaler, you want real-time insight into the current stock levels of your products. Your stock value is also an important part of your accounting. With Invoice Office you keep track of your stock and you are informed when purchasing is due.
What can our free bookkeeping software offer you?
With our free bookkeeping software you have access to the various departments at any time, such as costs, investments, annual balances, outstanding invoices, quotations, your personal consumption, and of course the VAT declaration. All functionalities are developed in the same program and integrated with each other. For example, you can immediately create and send an invoice from a work order. Or create an order confirmation from a quotation with one click. And automatically a packing slip from order confirmation. The invoice program keeps track of everything and knows, for example, exactly what your stock levels are and what is entered on your VAT return. Below, some of the main free accounting software features are explained in more detail.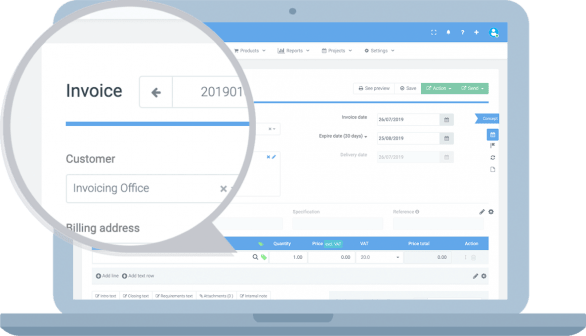 Free invoicing
Creating and sending quotes and invoices is the basis of your accounting. Invoicing is, therefore, an essential part of a free accounting program and offers the possibility of significant time savings by making the online creation and sending of quotes and invoices easier and faster. This is one of the most powerful functions of the Invoice Office, including a handy document design function to design the layout of your documents according to your own wishes. With your own logo and corporate identity, you give your accounting a professional and reliable appearance. Sent directly by email as a PDF file with included payment link for fast online payment.

Read more about free create quotes and free create invoices .
Free time tracking
Do you often work on projects for clients? And is a time recording a tedious task for you? The free accounting program from Invoice Office makes time tracking much easier and is fully integrated with the invoicing function. Your digital timesheets are approved online by the customer and you can immediately create an invoice from your timesheet with one click. Having multiple employees write for hours and work in teams with various tasks is also very easy and clear. The accounting software also gives you insight into the performance of your projects such as current budget and planning.

View more free time tracking options.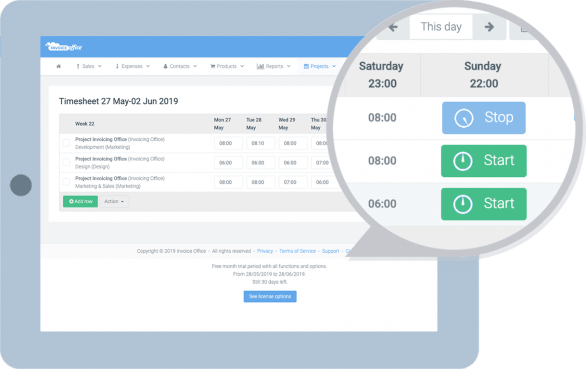 Book costs for free
To complete your accounting, you need an easy way to enter and organize all your purchase invoices and receipts. With our free accounting program you can easily enter individual purchase invoices and receipts or you can load your bank transactions into the program to register all expenses and income even faster. You can link each transaction to a cost category and/or link it to an already entered purchase invoice or payment. The accounting program helps you to keep track of your cost administration as efficiently and easily as possible.

Everything about processing free costs ..
"Great program! Nice, simple and super handy. Definitely recommended"
Rob | Consultant Online Marketing
Rating:
EXCELLENT

5.0
Stars
User-friendliness:



Functionality:



Price / Quality:



Reliability:


Invoice program packed with useful functions