Free administration program
All-in-one accounting for every entrepreneur
Free accounting program for every SME and freelancer
As an entrepreneur, accounting is probably not your favorite business. Fortunately, there are many opportunities nowadays to organize your accounting online. In this digital age, things like administration can be solved very efficiently. These time-consuming jobs do not have to take days. As a result, you, as an entrepreneur, have more time for entrepreneurship, so start today with our free accounting program!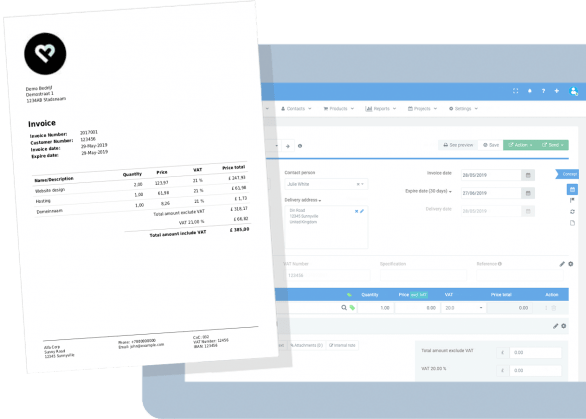 What is the advantage of online accounting?
An all-in-one easy invoicing & small business accounting software like Invoice Office offers a complete package of important features that you can perform online. Think of time registration, invoicing, cost management and much more. Below you will find a number of advantages.
 
Less administration, more entrepreneurship. li>  
It is cheaper for paper and printing costs, the license costs are less. You also give back to the world, by using less paper (environmentally friendly). Li>  
It is safe and available 24/7 (backups are made daily). There is a legal retention period, so we will keep your administration long enough li>  
Better relationship with the customer li>  
Browser and device independent. You can use Billing Office with all computers, tablets and smartphones li>  
Easy to link with functions like iDeal li>  
Easy invoicing, creating credit notes, registering hours and much more
li>
What can our free accounting program offer you?
With our free accounting program functions you have access to the various departments at all times, such as costs, investments, annual balances, outstanding invoices, offers, your personal consumption and of course the VAT. View a short introduction video of Invoice Office above for a quick introduction.
Click on the links below to see what the software looks like, all functionalities have been developed in the same program. You can make quotes, packing notes, invoices, credit notes, payment reminders and much more. With our time registration function you can easily keep track of your hours of projects you are working on. Immediately after you fill in your hours send an invoice? No problem.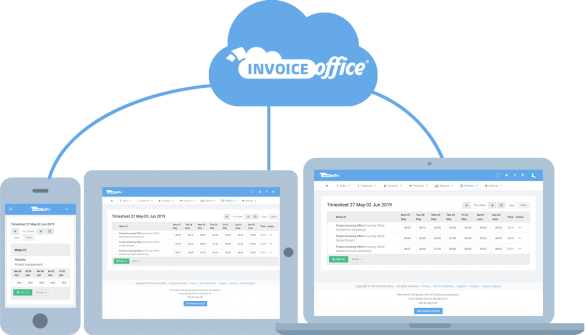 I have been using Invoice Office for 5 years now and I think it's fantastic how the design, the functionality and the platform have grown with me.

<font color="white">Susan Redfield</font>

HEALTHY LIFE COACHING

It makes my life so much easier, I wish I had this when I started my business! It really is a time saver and works very pleasant.

<font color="white">Roy Freeman</font>

Digital Builders

The software looks great in terms of design. The billing that also accepts online payments and keeps track of costs is very easy to use.

<font color="white">Patrick Berg</font>

Berg Consultancy