Effortless time tracking for everyone
Are you a self-employed person or SME company, and do you regularly invoice your hours worked to your customer? Then you definitely benefit from the free time tracking software from Invoice Office. It helps you to execute and manage projects and teams and saves you a lot of time in doing your project administration and invoicing. Automate and simplify your entire project and invoicing process from time tracker to invoicing and reporting. With Invoice Office you have a complete-time registration solution that suits your company and is above all very simple and clear. Discover the possibilities and advantages here and immediately start organizing your own time registration perfectly.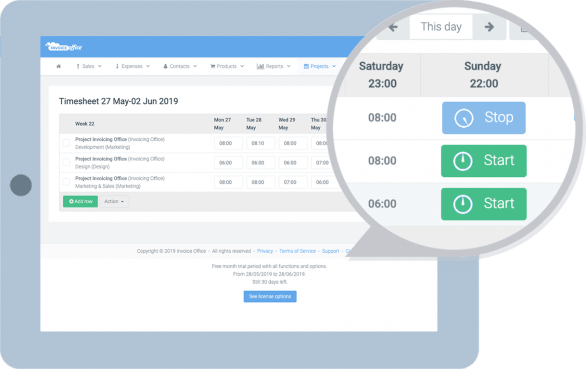 How can time tracking software help you?
No more paper work orders: Everything digitally and real-time online. Fewer mistakes and work more efficiently.
Online customer approval: Hours worked approved with a digital signature from the customer. Linked with automatic workflow.
Time registration for multiple projects and customers: Always keep an overview even if your time is divided over several projects at the same time.
Working with teams: Work together with employees in one uniform environment. Easily add new team members.
Seamlessly integrated invoicing: Convert approved timesheets into an invoice with one click and send digitally by email.
Keep budget and planning per project: Always remain in control and up to date with current statuses through reports and automatic reports.
No more paper work orders
The paper work order is a source of many problems and takes a lot of time for both employers and employees. The chance that they have been entered incorrectly, lost, or illegible is very high. The result is a time-consuming and frustrating job. Fortunately, the paper work order is a thing of the past! With Invoice Office you can easily switch to the digital work order and immediately benefit from the many benefits. The time savings are particularly significant because the entire process from hour registration and customer approval to invoicing are automated. Every employee registers his hours in the same way without having to worry about this. And you also spend much less time on checks and are constantly at the back. The software helps you to automate and improve the entire time registration process.
 
Guarantee correct hours administration as a freelancer, self-employed person or employee. li>  
More accurately estimate how many hours are needed for a new project. li>  
Prevent your income from going wrong by inaccurate time registration . li>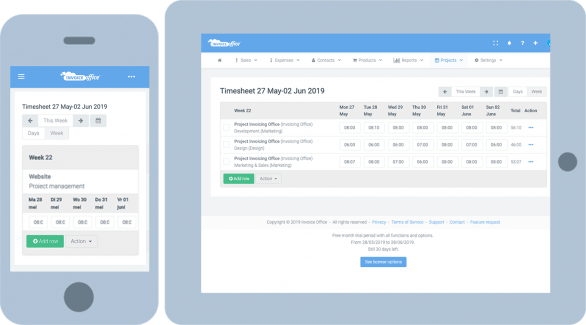 Digital approval of hours worked
Often hours worked can only be invoiced if the customer has approved the work order, time sheet or time sheet with a signature. A lot can go wrong at this step and is often a cause of much delay in the billing process. With the billing software from Invoice Office you do not have these problems.
The weekly or monthly worked hours overview is sent digitally to the customer by email and the employer can approve the hours directly online. This is possible with a digital signature that can be entered on any tablet, smartphone, or computer. The employer can also reject the hours and indicate what he thinks is not correct. Upon approval (and disapproval) you will be immediately informed by notification by email or in your dashboard.
Then, with one click of the approved hours, you can immediately create invoice that is immediately ready to send. You also always have an overview of the status of all outstanding approval requests..
 
Guarantee quick approval by your employer without mistakes. li>  
Resend instant feedback and immediately corrected hours for approval. li>  
Clear overview of approval status and automatic notifications. li>
Time registration for teams and projects
Do you work with several colleagues in a team? Or is time registration part of projects? With Invoice Office you have a powerful Project Management Tool with which you have insight and overview of the current status of your project planning and budget. When creating a project, you can invite team members to keep track of their hours in the system for free. Here you can also manage the team roles and tasks with corresponding hourly rates and other costs. You set the schedule and budget and the timesheet software wood automatically informs you of the current status during the execution of the project. Additional reports also help you to keep a grip on the implementation and to inform employers easily.
 
Clear project dashboard with planning, budget and other KPIs. li>  
Grip on your team members and spend budget per person. li>  
Project costs and hours worked from the project billing . li>
Handy timer for accurate time tracking
Do you want to record your worked time to the minute or second? With the easy timer function, you can keep track of your various tasks with a stopwatch. This allows you to keep track of time worked for multiple tasks simultaneously in real-time. The timer can control any device wherever you are. For example, it is possible for several employees to clock in with their mobile phones as soon as they start a task and clock out as soon as it is done. The time tracking software automatically indicates if you accidentally let a task take too long. For lawyers and other service providers who need accurate time administration, the time registration program of Invoice Office is the perfect solution.
 
Up to the minute accurate timekeeping wherever you are. li>  
Time tracking on multiple tasks at the same time. li>  
Automatic warning notifications for too long. li>
The advantages of online time tracker
 
The time registration software is free! li>  
Projects and team management li>  
You can invoice your worked hours directly li>
Have timesheets digitally signed by the customer li>  
Time tracking on any device and wherever you are li>  
Reports of project, planning and budget progress li>
Time registration made easy and clear for everyone li>
"Great program! Nice, simple and super handy. Definitely recommended"
Rob | Consultant Online Marketing
Rating:
EXCELLENT

5.0
Stars
User-friendliness:



Functionality:



Price / Quality:



Reliability:


Invoice program packed with useful functions