Generate invoices
Making invoices has never been easier!
Generate invoice online with Invoice Office
Generate an invoice online and make your accounting procedures easy and less time-consuming. Manually creating invoices is eating up the crucial time of your business. Besides, it is also a task prone to errors because of the manual job involved and the use of less effective platforms like Microsoft Word and Excel. When you choose the Invoice Office to generate an invoice, a very accurate invoice is prepared in a fraction of seconds. The invoice is professionally created and formatted to present your company in front of the clients. A very easy to use software, Invoice Office is the most effective invoice generator you can use today for accuracy and timeliness in generating invoices for your business.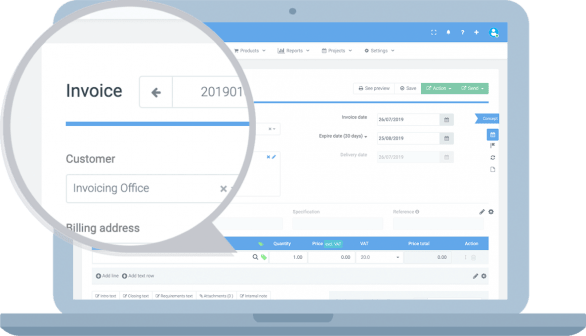 Essential elements to generate an invoice
All invoicing requirements and features that relate to the making of an invoice are present in the software. Below you will find a number of functions that the software includes:
The company details are in the right place on the invoice li>
All invoice requirements from the Tax Authorities (VAT number, Chamber of Commerce number etc.) li>
Customize to your own house style (logo, font etc.) li>
See if an invoice sent by e-mail has been opened li>
Support for all currencies li>
Direct online payment function, so your invoices are paid faster li>
In addition to invoices, you can also easily delivery notes , quotations , order confirmations and creating credit notes li>
Backup of all invoices
li>
Pros of using invoice generator software
From eliminating errors to saving resources, there are many benefits of using an online invoice generator software. The software ensures that you have access to everything that you need to create your invoices. You can create accurate invoices in the minimum time possible and also send it to the clients using the free invoice generator. There are various options available to send the invoice including email and by post.
Moreover, when you generate an invoice online, the invoice is in the best format and professionally created which creates a great impression of your company and professionalism. There are no mistakes in the invoice enabling you to maintain easy accounts with accurate information. As you save several man-hours, they can be better utilized to streamline other business processes.
Download an example invoice in PDF here.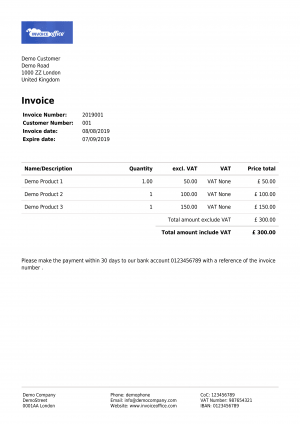 How to generate an invoice using the invoice generator
Using Invoice Office to generate an invoice online is very easy. Even if you are using it for the very first time, the given instructions eliminate any chances of error or confusion. All you need is the right information and generating invoice can be done in under a minute.
The free invoice generator brings all the invoicing requirements and functionalities at one platform, making it very easier and flawless for you to generate invoices. You can easily generate an invoice as well as keep a track of client's payment, follow up, expired invoices and more.
Features of invoice generator software
The best online invoice generator software is a one-stop solution for a range of your requirements. The top feature of the software includes:
Invoicing & Documents: The software allows you to manage all invoices and documents related tasks including generating an invoice, invoice design, receipts, send an invoice, and more.
Time tracking and Projects: Project management and time tracking can be made super easy and efficient with the invoice generator software.
Client and Products: You can manage several client profiles and products and generate specific invoices for them.
Expenses: Keep track of your expenses and manage them efficiently using the software.
How to send generated invoice online
The online software generator not only allows you to create professional and formatted invoices but also extends options to send them to the clients. You can send an invoice:
By email: The most convenient and fast way to send an invoice is through email. You can send the invoice as a PDF file using the online invoice generator software.
By Post: If your customers prefer the conventional way, you can send them a paper copy of the invoice by post.
Through personal delivery: If the need be, you can personally deliver the invoice to the clients and ensure a confirmed delivery.
Why use Invoice Office?
If you want to generate accurate invoices in minimum time and save resources, Invoice Office is the best online invoice generator software. Capable of handling endless invoice generating requests per day, the software is made to offer accuracy and efficiency to the users. You can manage a lot of client accounts and keep a tab of payment schedules, missed payments, expired invoices and more. It was never easier to generate invoices online before the Invoice Office.
"Great program! Nice, simple and super handy. Definitely recommended"
Rob | Consultant Online Marketing
Rating:
EXCELLENT

5.0
Stars
User-friendliness:



Functionality:



Price / Quality:



Reliability:


Invoice program packed with useful functions