Need accounting software?
Free online accounting software from Invoice Office!
Free accounting software for every SME and freelancer
As an entrepreneur, accounting is probably not your favorite business. Fortunately, there are now many options for organizing your accounting online. In this digital age, things like administration can be solved very efficiently. These time-consuming jobs don't have to take days anymore. Invoice Office is a free accounting software for entrepreneurs, with everything you need for your invoicing and financial administration. Specially made for freelancers and SMEs. So suitable for a sole proprietorship, general partnership, foundation, association and eg. With our best accounting software you as an entrepreneur have more time for entrepreneurship, so start today with our small business accounting software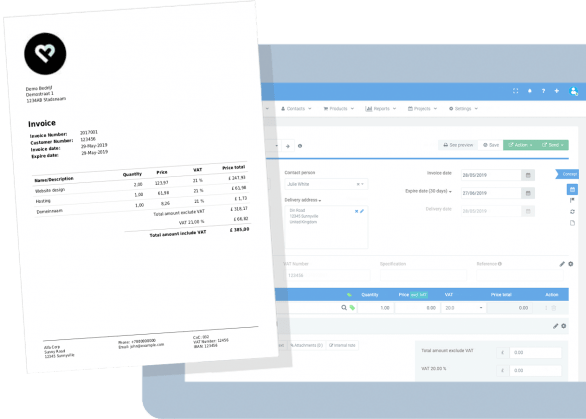 What is the advantage of administration software?
By online administration software we mean the total package of invoicing, time registration, cost management and much more. Everything that an entrepreneur needs. Invoice Office offers a total solution, a software to set up your entire administration online. Below are a number of disadvantages of a physical administration put together.
 
As a freelancer you are often busy, it is annoying when a lot of time is spent on administration li>  
You spend a lot of money on printing and paper costs to keep your records in folders li>  
Your administration is not always quickly accessible if it is physically stored in a warehouse li>  
Keeping overview is difficult when you have a huge amount of administration
li>
What is the advantage of online accounting?
An all-in-one easy invoicing & small business accounting software like Invoice Office offers a complete package of important features that you can perform online. Think of time registration, invoicing, cost management, and much more. Below you will find a number of advantages.
 
Less administration, more entrepreneurship. li>  
It is cheaper for paper and printing costs, the license costs are less. You also give back to the world, by using less paper (environmentally friendly). li>  
It is safe and available 24/7 (backups are made daily). There is a legal retention period, so we will keep your administration long enough li>  
Better relationship with the customer li>  
Digital accounting is safe li>  
Browser and device independent. You can use Invoice Office with all computers, tablets and smartphones li>
What can our free accounting software offer you?
With our free accounting software functions, you have access to the various departments at all times, such as costs, investments, annual balances, outstanding invoices, offers, your personal consumption and of course the VAT. View a short introduction video of the Invoice Office above for a quick introduction.
Signup today to see what the software looks like, all functionalities have been developed in the same program. You can make quotes, packing notes, invoices, credit notes, payment reminders, and much more. With our time registration function, you can easily keep track of your hours of projects you are working on. Immediately after you fill in your hours send an invoice? No problem.
Simple accounting software free for starting entrepreneurs
Invoice Office has been developed with ease of use and simplicity as the main starting point. The accounting software is free for starting entrepreneurs, but that does not detract from the quality and user-friendliness. The free version of the program is the same as the full-fledged accounting software only at no cost to small businesses with less than four bills per month. The software is made in such a way that it is very easy to learn to use. Also for users without any accounting or computer program knowledge and experience.
Accounting without costs and obligations
Are you a starting entrepreneur or small business that creates less than four documents per month? Then you can continue to use the accounting software for free without any obligation or hidden costs. There is no notice period and no other conditions. So every reason to get started for free and try out Invoice Office yourself. Even as a free accounting software user, the helpdesk is ready to answer all your questions.
Is free accounting something for you?
Invoice Office is a free, reliable and easy-to-use accounting software that makes bookkeeping more efficient for every freelancer and SME. Packed with useful functions that make your life as an entrepreneur easier. Discover for yourself what Invoice Office can do for your company and how you can immediately save more time and money. Create a free account and get started today.
"Great program! Nice, simple and super handy. Definitely recommended"
Rob | Consultant Online Marketing
Rating:
EXCELLENT

5.0
Stars
User-friendliness:



Functionality:



Price / Quality:



Reliability:


Invoice program packed with useful functions