Example invoice
All requirements that your invoices must meet. Made in a jiffy!
An example invoice from Invoice Office
Have you just started as a freelancer or small business owner and you need to prepare your first invoice? It is not always clear what should and should not be on invoices. It is important for entrepreneurs that you have this in order because invoices ensure that money comes in. With a clear example invoice you come across as professional and you will not be faced with surprises when important information is missing. You can create invoice online yourself or use an example invoice that an online billing software such as Invoice Office generates. On this page, we show you with several invoice examples what this financial document with the correct information stated looks like. And we explain the rules that an invoice must meet.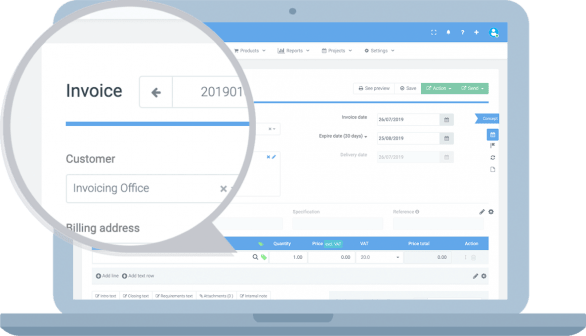 All invoice requirements in a row
From the tax authorities, invoices must meet certain requirements. If you sell a service or product, you are obliged to provide an invoice that includes all basic information. This includes transparency towards the consumer. Below you will find all the invoice requirements in a row.
 
The invoice must have a unique serial number li>  
A description of the services or goods li>  
The number of goods or services supplied (specify in units) li>  
Your VAT number and Chamber of Commerce number li>  
Also state the full (!) address of the buyer and that of the company li>  
The date on which the invoice was issued and the date on which the goods or services were delivered (or prepayment date) li>  
The total VAT amount and the VAT rate that you have applied. Also the VAT amount you charge excluding VAT li>  
If you deliver goods or services with different VAT rates, enter separate amounts and also include the price per unit if applicable
li>
An example invoice for freelancers and companies
Here you will find an example invoice as it can be created in Invoice Office. With the invoice program, several invoice examples with all invoice details are ready for you. You only need to add your own information and you have created and sent your first professional invoice within one minute. All invoice formatting wishes are possible. The software makes all the calculations for you and you can be sure that your invoice complies with the legal rules. Creating your invoices with the software is completely graceful, but saves you a lot of time compared to drawing up your invoices by hand in Word or Excel.
If you would like to see the example invoice better, download the file below.
i> Download here the example invoice in PDF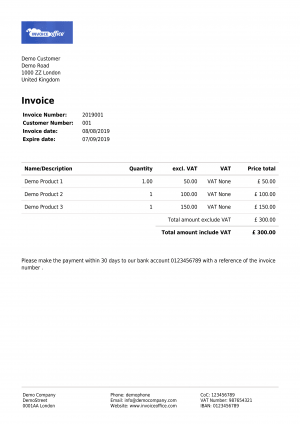 Sample invoice with company logo and background image
An example of an invoice with a background image is shown the opposite. The use of your company logo and a background image are among the standard invoice formatting options of the Invoice Office. If you want to come across as a professional to your customers, a nice layout is definitely recommended. You can create a nice example invoice with your own logo and company colors in the software with just a few clicks.
You can also determine the position of the invoice data on the document. You can arrange the entire invoice, including which data is displayed or not, to your own taste. Which invoice data you show on your example invoice depends on what applies to your own business.
Example of invoice with company details at the top
The most common position of your company details on the invoice is at the bottom of the document in the Footer, or at the top right as shown in the example invoice on the right. With Invoice Office you can choose where you put your address and contact details on the invoice. The only factor that determines this is your own preference. Find out which position is best for your invoice. You can find examples of invoices with both the data at the top and bottom on this page.
Introduction and closing texts on the invoice: In this invoice example you also see the use of and introductory text. If you want to add a greeting or additional information, you can show both an introduction and closing text on the invoice. This can be very useful to clarify the invoice content or to inform the customer about offers or other communications.
Invoice example with the delivery address
It often happens that you want to send an invoice for an order that is delivered to a different address. On the right, you see an invoice example including a delivery address. It must be clearly indicated which address is the billing address and delivery address. In Invoice Office you can store multiple delivery addresses per customer and with one click you have added the address on the invoice. An example of an invoice with a delivery address is a webshop with orders. Also, orders placed by a head office that has to be delivered to different locations.
Delivery date: Usually you also want to mention the date when the goods are delivered. For this, you can use the Delivery Date within the Invoice Office. This prevents questions and ambiguities from the customer.
Invoice example with specification and reference
Commonly used additional, non-mandatory information on the invoice is the specification and reference text boxes. With Invoice Office you can turn the specification and reference on or off and you are free to determine how you fill in these boxes. A good example is a garage or car company that wants to state the registration number of the treated car on the invoice. The specification or reference field is perfect for this. You can also change the name (label) of all fields shown on the invoice to your own preference. So, in this case, you could change the name 'Reference' in the 'License plate'. There are countless applications for these handy text fields. And Invoice Office offers you the possibility to name all fields and texts on the invoice with your own choice of words.
I have been using Invoice Office for 5 years now and I think it's fantastic how the design, the functionality and the platform have grown with me.

It makes my life so much easier, I wish I had this when I started my business! It really is a time saver and works very pleasant.

The software looks great in terms of design. The billing that also accepts online payments and keeps track of costs is very easy to use.
Discover our invoice software today
Our invoice software has various features to serve all entrepreneurs. For example, after using our example invoice, you can easily register time in our time registration module and also easily create and send invoices, credit notes, packing notes, offers and payment reminders. Perfect for freelancers and small and medium-sized businesses!