Create effective quotes online
As an entrepreneur, effective quotations are an essential part of your business. A good offer is not only a quote for the products and services you offer, but is also a calling card for your company. It should inspire confidence and convince the customer to choose you. On this page, you will find all the information you need to create quotes online
But you also want to be able to make your own quotes quickly and easily with your own customer base and your own product list with just a few clicks. Subsequently, you can send your quotes digitally with attachments to the customer. You want the customer to be able to digitally sign the quotation immediately to confirm the order. You also want to easily keep track of the won status of all quotes in one overview. And preferably also create and send an invoice directly from a quote with one click. All this is possible with the invoicing software from Invoice Office.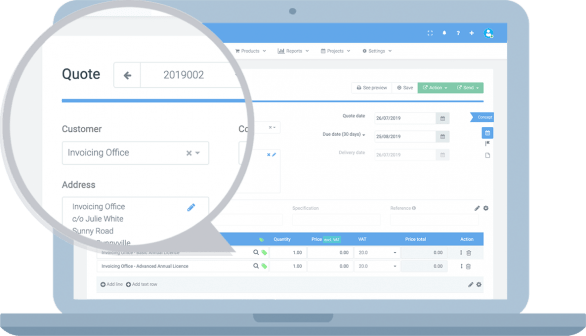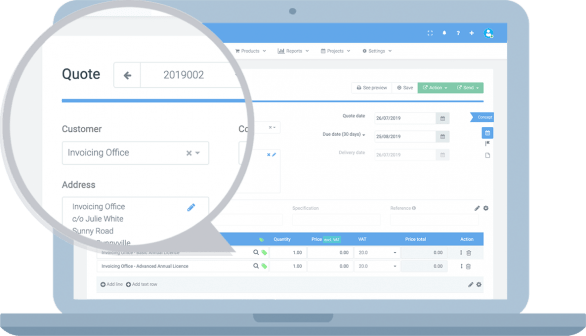 What information do you need for a professional quote?
Customer address and contact person: State the address and contact person (or department) of the receiving party.
Your own logo: Make the offer with your own logo and colors of your corporate identity for a good, stylish and professional first impression.
Quote title: With a striking title, it is clear at a glance for yourself and the customer that the document is a quote..
Quotation number: With a unique ascending document number it is easier to identify specific documents.
Quotation date and expiration date: The date of issue of the document and the expiry date make it clear for when the customer must respond.
Introduction text: With an introduction text you can give a message to present and introduce your proposal more personally.
Products and services: A clear name and description, pricing and specification of your offered products and services is essential.
Total amounts and discount: The total amounts excl. And incl. VAT are shown here. Possibly supplemented with a discount amount or percentage.
Period of validity and conditions: It must be clear to the customer what the delivery conditions apply to this offer.
Signature for approval: With a digital signature, the customer can immediately approve the quotation online without manual fuss.
Own company data: It must of course be clear to the customer who the provider is and how he comes into contact with your company.
Invoice Office has everything you need to create quotes
With the quotation software from Invoice Office, you save a lot of time when making quotations. And you also have all the useful functions that make the entire quotation process easier and clearer for you. This way you automate many steps that are otherwise performed manually, which are prone to errors and take up too much of your valuable time. Discover the possibilities to organize your quotation and billing process more easily and efficiently.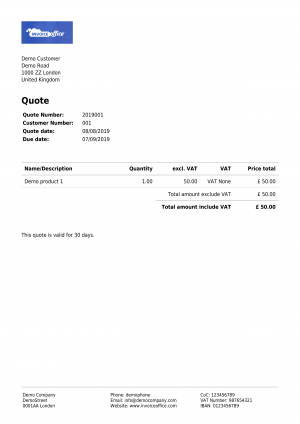 Quotation templates: Choose from various ready-made quotation templates for a beautiful, professional layout. And adjust the formatting further.
Digital signature: Send your quote with an included link for online approval and have your quotes digitally signed by the customer right away.
E-mail with attachments: Email your quotation as a PDF file and add attachments with your delivery conditions, price list or additional information.
Status won: Receive automatic notifications when a quotation has expired and has been approved or rejected and keep track of your sales performance.
Quotation overview: Keep track of the status for all your quotations in a clear overview. And immediately take the right action at the right time.
Product images: Make your quotes more attractive and clearer by using product images on your quote lines.
I have been using Invoice Office for 5 years now and I think it's fantastic how the design, the functionality and the platform have grown with me.

It makes my life so much easier, I wish I had this when I started my business! It really is a time saver and works very pleasant.

The software looks great in terms of design. The billing that also accepts online payments and keeps track of costs is very easy to use.